Crystalline Glazes
These magical crystals reminiscent of dancing snowflakes represent one of the hardest ceramics glazing techniques to master. To achieve the crystals, the pottery is fired to over 2300 degrees F. and then cooled in stages so that the crystals first grow and then "freeze" in the glaze. Without the proper cooling process, there are no crystals!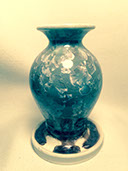 Plus, the glazes are very fluid so each piece must be fired on a catch basin glued to the bottom of the piece so that the glaze does not drip over and destroy the kiln shelf. After the firing, the catch basin is cut away using a special tool made of silicon carbide. Sometimes, the catch basin just does not want to come off! The purest and finest clay—porcelain—is best suited to achieve these beautiful crystals. And, of course, porcelain is the most expensive clay. Scope Gallery is fortunate to
have two artists who specialize in this technique.
Lorraine Colson
The first time Lorraine saw crystalline pottery, she was reminded of the frost forming on windowpanes while growing up in Vermont. She had mastered other glazing techniques, but none looked anything like these marvelous crystals! Producing these crystals became her goal. After investigating the technique and lots of experimenting, she achieved the beloved frost crystals! All of her work is now crystalline pottery. Because of the intricate firing process, having her own studio and kiln was essential. With each firing she was able to produce crystals that vary in size, shape and arrangement. Lorraine continues to expand her expertise not only in different patterns, but colors. Find yourself plunged into the sea with her deep turquoise! She also has several shades of blue ice as well as salmon, and continues to work on all sorts of surprising possibilities. Lorraine has been a juried member of Scope for over 10 years and has frequently served on Scope's Board of Directors.
Yoshiko Ratliff
Yoshiko likes to work with porcelain to make her favorite forms--- long, thin-necked vessels and teapots. When she discovered the beautiful surface of crystalline glazes, she quickly decided that this was the best match for her delicate, elegant forms. Known for being a meticulous potter, Yoshiko applied the same careful approach to learning crystalline glazing. She wanted to create unique colors and crystal patterns for the surface of her vessels. After getting her own kiln, she developed extremely unique multicolored crystal patterns. Just look at that teapot! The perfection of her vessels has been recognized through numerous awards by the Creative Crafts Council and by the Montgomery Potters. Juried into Scope in 2005, Yoshiko also is a juried member of the Torpedo Factory and exhibits at the Cooley Gallery in Leesburg, VA. In addition to Creative Crafts Council Exhibitions at the Mansion at Strathmore, she has been juried into numerous exhibits including the Baltimore Clayworks 100 Teapots III exhibition, a Craft Alliance exhibit in St. Louis, MO, and the international exhibit, "Frozen in Fire- Crystalline Waves" in FL, 2011. Born and raised in Japan, she taught Japanese and only began ceramics after she moved to the U.S.